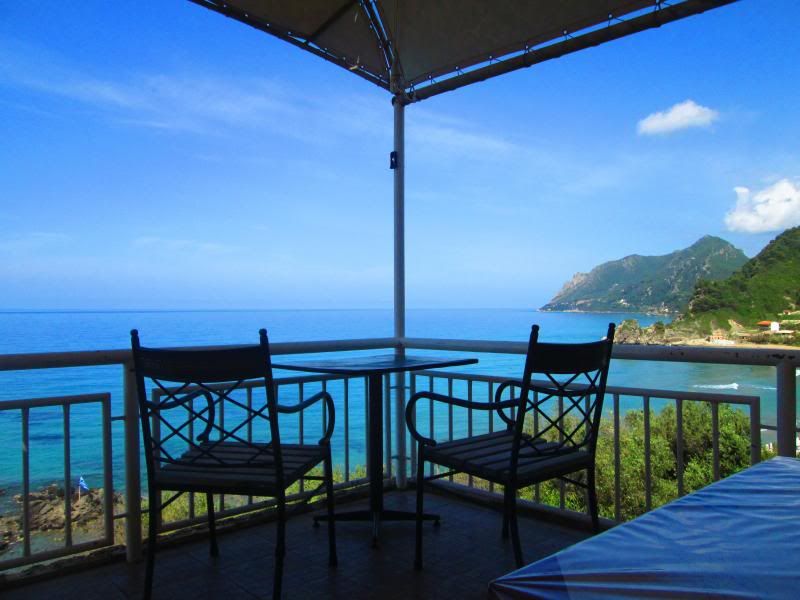 Today I begin reflecting on what was perhaps one of the most enjoyable weeks of my life. This week I got to share my year in Greece with two of my closest friends. After a short stay in Corfu, my friends and I travelled 3 hours by coach and ferry to my hometown of Arta. When I was planning the week, some of my friends asked me why we didn't just spend the week in Corfu, and I told them that I didn't want to show my friends Corfu, I wanted to show them my life.
To begin with, I must open with a recommendation of the
Vrachos Hostel (Sun Rock) on Pelekas Beach
. For ten euros a night (an extra ten if you want breakfast and dinner) it is a bargain to say the least. Family ran, and frequently frequented by young European travellers, it is an exceedingly friendly hostel with an absolutely breathtaking view. I am planning on spending a day or two in this resort prior to my flight home from Corfu.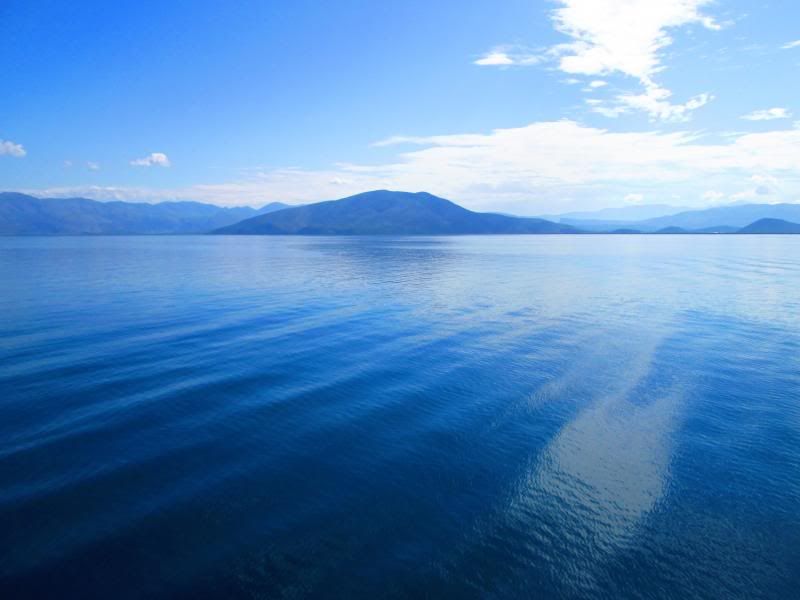 The ferry ride was an experience too. The views from the side never ceased to amaze. The sea was grooved and patterned on the surface like a deep blue carpet floating and moving to the motion of the waves. There were clouds in the sky and, when reflected by the sea, created an amazing image that was so easily to capture. We were quite silent as a result of the awe-striking scenery and a lurking hangover. Whilst Joe busied himself trying to do the
Kenny Everett cigarette trick
followed by a celebratory point and click, Khalisha and I spent the best part of the journey just being tourist and snapping the sea. From here on it was a sleepy coach ride to Arta.
When we arrived in Arta I gave a quick tour then we headed to Menidi to enjoy the quiet atmosphere of the dreamy seaside town and drown in a surreal sunset. Then we went back to Arta and ate a hearty meal at my good friends restaurant before ending the night with a beer or two at a local bar. Over the next two days we went to
Lake Zirou
, the famous Bridge of Arta, and countless cafes and bars. They also forced me to perform a few songs at a local acoustic night, which led me to realise that I don't learn full songs as I - in a mildly intoxicated manner - performed loose, yet decently-received, renditions of
Eric Clapton, Queen, Bon Jovi
and (to the enjoyment of Joe)
Take That
. This was the first ever time I have ever performed alone so I was pretty shaken even though there wasn't really a crowd. In the past I have been able to hind behind the cover of my bandmates; I felt exposed, but ultimately glad I did it.
As they were leaving, we had a discussion about the five days that they had spent here; about the hospitality my friends had shown, the beautiful places, the fantastic lifestyle and how different, as well as similar, this small town life is to home. It was an amazing way to start rounding off an amazing year living here. Now all that is left is final exam practice for my students before there exams over the following month.
Hashtag: squeakybumtime.
Khalisha proud with her graffiti skills.


Joe and Ian.